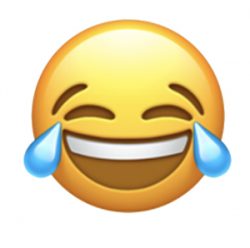 A Digital Ethnography: How People Communicate with Emoji on Social Media
Coupled with the development of the virtual world, there has been an increasing demand for semantic yet expressive communication on the Internet. The strong uptake of emoji in recent years is indicative of such a trend. This essay aims to propose a digital ethnography investigating the deployment of emoji on social media. The essay's first section will explain interests developed for the topic, while the second part will cover the research project's methods and ethical considerations, as well as an approach to present the project's final report.
Interpersonal communication, constituting both verbal and non-verbal elements, is rich and vivid. It is argued that these characteristics only relate to real-time meetings (Postill, 2011), but not online communication due to the non-transferability of non-verbal cues accounting for 65% of the message (Dwyer, 2013) in the digital-mediated environment. While technology today has not developed insofar as it can ultimately capture the essence of human communication, I believe it is rash to conclude that online communication lacks the richness and vividness. Emojis today somehow display these elements in online discussions. They are deemed a contribution to every social networker's daily vernacular, myself included.
While it is true that emojis partly "compensate for the reduced bodily cues" (Postill, 2011: 106), whether they operate as a stand-alone component in sentences (Danesi, 2017) or "a language accessory" (Scall, 2016) in the virtual world is controversial. Despite its widespread usage (Dimson, 2015; Kmieckowiak, 2017), research on emoji is scarce. Most pre-existing literature studying online communication only focuses on either textual data (Garcia et al. 2009; Soukup, 2000) or emoticons (cited in Garcia et al. 2009: 61) – emojis' predecessor, rather than other modalities. As I was unable to gain more insights from these sources, I decided to conduct a digital ethnographic research about how I and others use emoji on social media. This is an opportunity to explore a contemporary phenomenon yet new aspect of my media rituals, and hopefully my ethnography will add to the pre-existing and future emoji research.
As social media is characterised as the "messy web", it requires a complex ethnography process that entails a variety of digital practices (Postill & Pink, 2012). Thus, this research project seeks an "adaptive" route (cited in Postill & Pink, 2012) by combining and developing some conventional and digital practices to adapt to the flexibility and fluidity of the virtual world. I first conducted secondary research about popular social media platforms and ethnographies is first conducted to define and understand the settings. From the findings, I decided to do an autoethnography recording of my use of emojis in my dominant digital milieu – Facebook – for a day. During such time, I will also act as a "participant experiencer" (cited in Garcia et al. 2009: 55) for the fieldwork process and the unobtrusive observation of the emoji sociality on each Twitter and Instagram.
While Facebook's privacy hinders the tracking of emoji trails, Twitter's nature – with the hashtag follow-up and limitation of the tweet's 140 characters – allows the intrusiveness of the study. I will pick two random trending hashtags on the platform to follow and investigate. Regarding Instagram, the platform promotes the use of emoji deriving from its photographic nature of users' self-expression and the conduit's emoji keyboard. This allows me to delve into two most followed public profiles – Kylie Jenners and Selena Gomez – to examine emoji uses in their comment section. Finally, I will interview one research participant who interacts frequently with me on Facebook's Messenger – with 5 closed-ended and open-ended questions – to gain more insights into their emoji sociality. The concomitant assumption of partial exchanges and ephemeral "contextual fellowship" (Rapport & Ramit, 2002: 5) embedded in the online environment will help the interviewee avoid time-space constraints (Schonfelder & Azhausen, 2010: 38) and produce valuable responses. Also, in the role of the interviewer, I will be able to overcome some limitations posed by the method, such as time-consuming transcribing.
In order to conduct the research as planned, I will adopt five overlapping sub-practices – catching up, sharing, exploring, interacting and archiving (Postill & Pink, 2012) – to focus on the routines, mobilities and socialities of the ethnography. Catching up refers to my ten-minute-morning regular presence on each aforementioned social media platforms to socialize and receive updates. Simultaneously, I will utilize "showing" (Couldry et al. 2014) by sharing my narratives online. These entangled subpractices then offer "spatializing narratives" (Couldry et al. 2014) for exploring, as I can follow up multiple threads to interact with more people and engage more with emoji through reacting, retweeting and hearting, commenting and liking. Regarding archiving, I will use my phone as my autoethnography's and interviewing's recorder – with short vlogs and screenshots – in conjunction with my laptop to store the types and numbers of emojis, as well as their literal and contextual meanings I come across in fieldwork and from observation.
While constructing the framework for the research project, I am aware of some ethical problems. The blurred boundaries between public and private online spaces regarding access to data and techniques for the protection of privacy and confidentiality pose an ethical dilemma to social media ethnographers (Garcia et al. 2009). While ethnographers prefer capturing honest moments, it is guilty to conduct research without informing participants of their consent. Additionally, researchers are supposed to have no right to decide whether a virtual space is private or public to meet their research needs (cited in Garcia et al. 2009: 74). This means that the determinants are the social media platforms' policies and natures (cited in Garcia et al. 2009: 74), requiring me as an ethnographer to strictly follow their rules to avoid infringement of privacy. This means that with the interview, I must seek permission from my interviewee for their participation. Also, identities and personal information of participants must be kept confidential and presented with respect in reporting the findings of the research (MEAA, 2018). I plan to blacken the names and avatars of users in screenshots, while display their response honestly. Otherwise, it is only possible to reveal these if participants give their consents and allow to. In the project's report, I will present it as a visual presentation on Prezi with voice-over and emoji text and subtitle in accordance with these ethical considerations.
Although social media environments are challenging to ethnographers, I have proposed a detailed plan for the research project, covering some methods and practices, as well as ethical considerations to ensure the validity and feasibility of the ethnography. Carrying out this ethnography, I expect to explore the social phenomenon – emoji – to understand an aspect of online communication between people.
---
Reference
Couldry, N, MacDonald, R, Stephansen, H, Clark, W, Dickens, L & Fotopoulou, A 2014, "Constructing a digital storycircle: Digital infrastructure and mutual recognition", International Journal of Cultural Studies, vol. 18, no. 5, pp. 501-517.
Danesi, M 2017, The Semiotics of Emoji, Bloomsbury Academic, London, UK.
Dimson, T 2015, Emojineering Part 1: Machine Learning for Emoji Trends, Medium, 1 May, viewed 23 September 2018, <https://instagram-engineering.com/emojineering-part-1-machine-learning-for-emoji-trendsmachine-learning-for-emoji-trends-7f5f9cb979ad>.
Dwayer, J 2013, Communication for business and the profession: Strategies and skills, 5th edn, Pearson Australia, Frenchs Forest, NSW.
Garcia, AC, Standlee, AI, Beckoff, J & Cui, Y 2009, "Ethnographic Approaches to the Internet and Computer-Mediated Communication", Journal of Contemporary Ethnography, vol. 38, no. 1, pp. 58-84.
Kmieckowiak, T 2017, Use of Emojis Can Lead to 47.7% More Interactions on Instagram, 24 January 2017, viewed 23 September 2018, <https://www.quintly.com/blog/instagram-emoji-study>.
Media, Entertainment & Arts Alliance 2018, MEAA Journalist Code of Ethics, viewed 24 September 2018, <https://www.meaa.org/meaa-media/code-of-ethics/>.
Oxford Dictionaries 2015, Word of the Year 2015.
Postill, J 2011, Localizing the Internet: An Anthropological Account, Berghahn, Oxford and New York.
Postill, J & Pink, S 2012, "Social Media Ethnography: The digital researcher in a messy web", Media International Australia, no. 145, pp. 123-134.
Rapport, N & Amit, V 2002, The Trouble with Community, Pluto, London, p. 5.
Scall, R (2016), "Emoji As Language and Their Place Outside American Copyright Law", The NYU Journal of Intellectual Property & Entertainment Law, vol. 5, no. 2, pp. 381-405.
Schonfelder, S & Axhausen KW 2010, 'Time, Space and Travel Analysis: An Overview', in S Schonfelder & KW Axhausen (eds), Urban Rhythms and Travel Behaviour: Spatial and Temporal Phenomena of Daily Travel, Ashgate Publishing Company, Surrey, p.29-48.
Soukup, C 2000, "Building a theory of multimedia CMC: An analysis, critique and integration of computer-mediated communication theory and research", New Media & Society, vol. 2, no. 4, pp. 407-425.